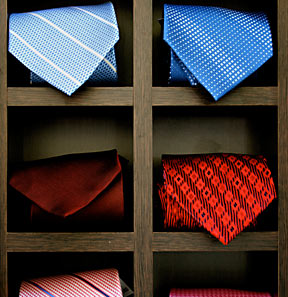 100% Satisfaction Guaranteed!

Our Neckties - Why have over 1 Million satisfied customers chosen Amazing Clubs? It might be our extraordinary value and competitive prices. It might be our exceptional customer service and dedication to our members. But most likely it's because they know that a gourmet gift from Amazing Clubs is a gift of unparalleled quality.
Featured selections of the Necktie of the Month Club are brought to you exclusively as a club member only after meeting the highest standards of our fashion professionals. Each has been hand-selected after viewing dozens of the latest offerings from top Italian and American designers. Only the best-of-the-best become selections of the Necktie of the Month Club.
Find that you need a second (or even a third) one of our neckties? You're in luck. Members of the Necktie of the Month Club receive special discounts when re-ordering any of our monthly selections.
You have hundreds, maybe thousands of choices for gourmet gifts. Let us show you why Amazing Clubs should be your first and only choice for a truly gourmet experience.
More questions?
See our FAQ.
Ready to order?
Order online today or call us toll-free at 1-800-507-4660.